Regular Batch for M.Com Entrance Examination 2018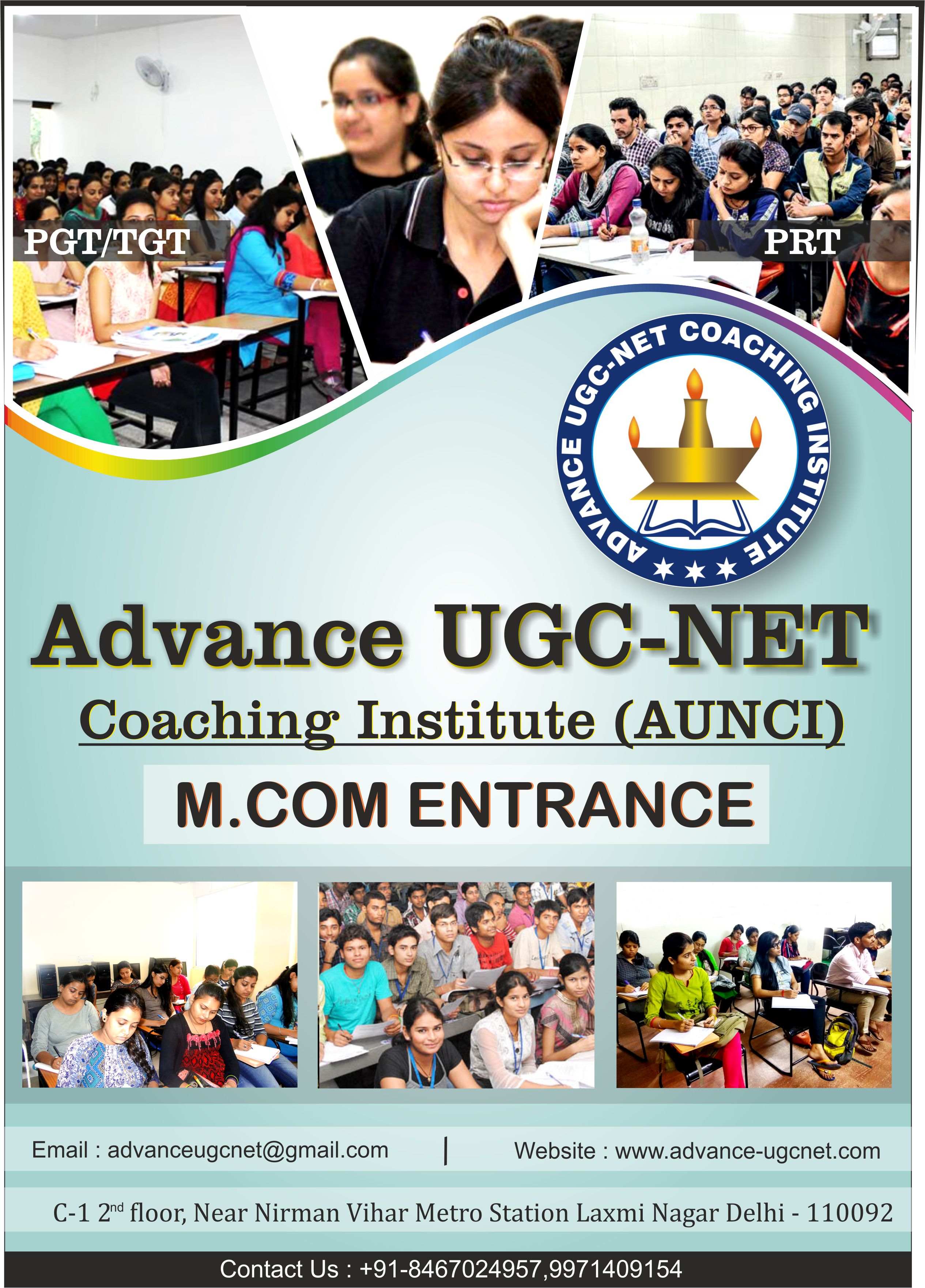 Greetings M.COM Entrance Aspirants! 😊

Advance UGC-NET Coaching Institute for M.Com (Entrance). Advance UGC-NET Coaching Institute (AUNCI) among the best institutes in Delhi that provide coaching for M.Com Entrance M.Com. Entrance exam for the student to be eligible for M.com Delhi University exam, you must have done your graduation and clear the entrance exam with merit. If you wish to get a seat in the best college in D.U., then you must crack the entrance exam with good score.
M.Com Entracne Exam Pattern
Entrance Test is of objective type questions, 2 hours duration and shall carry 400 marks. The written test shall be based on the following syllabus and shall contain 100 objective type questions, 25 questions from each of the four units.
Economics (including Micro Economics, Macro Economics, and Problems of Indian Economy)
Accounting (including Financial Accounting, Corporate Accounting, Cost Accounting, and Management Accounting)
Business Statistics and Mathematics
Business Organization, Management, Business Law, Company Law and Income Tax Law
Each Question would carry four marks and a wrong answer would result in negative marking of 1 mark. Course
Duration: 150 Hours
Fees: 22000
| Subjects | CSIR-NET SUBJECTS |
| --- | --- |
| Financial Accounting | 15 Hours |
| Corporate Accounting | 15 Hours |
| Cost & Management Accounting | 15 Hours |
| Business Mathematics | 15 Hours |
| Business Statistics | 15 Hours |
| Macro Economics | 13 Hours |
| 13 Hours Micro Economics | 12 Hours |
| Indian Economy | 5 Hours |
| Income Tax Law | 15 Hours |
| Business Law | 10 Hours |
| Business Organization & Management | 12 Hours |
| Company Law | 8 hours |
Expected Date of Completion of Batch: 31th March 2018
For More Reference Regarding Question pattern and number of Question in each paper please download Advance UGC-NET Prospectus Attached below:-