CORE HR TRAINING CENTRE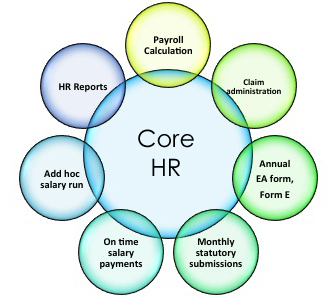 CORE HR GENERALIST TRAINING COURSE
Core HR is an umbrella job that includes the basic functions of an HR department such as the basic data captured about employee; the software used to manage basic HR processes etc.

Core HR is typically used in three distinct ways. The role of Core HR Course in a company affects all aspects of the organization because HR professionals is someone who supports all the employees and employees are most important resource in a company.

HR department is one of the pillars of an organization. HR's role is to coordinate with different departments and work towards the goals of the organization.

HR professionals has to keep a keen eye on all the work functions happening in an organization. Our course helps to develop Skill in core functions of the HR department which will commonly include employee recruitment, scheduling, payroll, benefits administration, internal relations, employee training, compliance and safety. It will develop basic HR responsibilities in the students for human capital management.



Advantage of CORE HR TRAINING From Advance Group of Institution-
Learning to refer to the basic functions of an HR department.
Learning to mean the basic data captured about employees;
Learning shorthand for the core HR software which is needed to enable the first two
Advance Core HR Training Course are Designed as per the Current Industry Standards
Ensure 100% Placement of Our Candidates
Trainer are Certified Professionals with 15+ Years of Experience
Syllabus Outline of Core HR Training Course In Delhi
RECRUITMENT & SELECTION
TRAINING & DEVELOPMENT
JOINING & EXIT FORMALITIES
PERFORMANCE MANAGEMENT SYSTEM
EMPLOYEE ENGAGEMENT
COMPETENCY MAPPING
SOFT SKILL TRAINING / INTERVIEW PREPRATION